Join Us!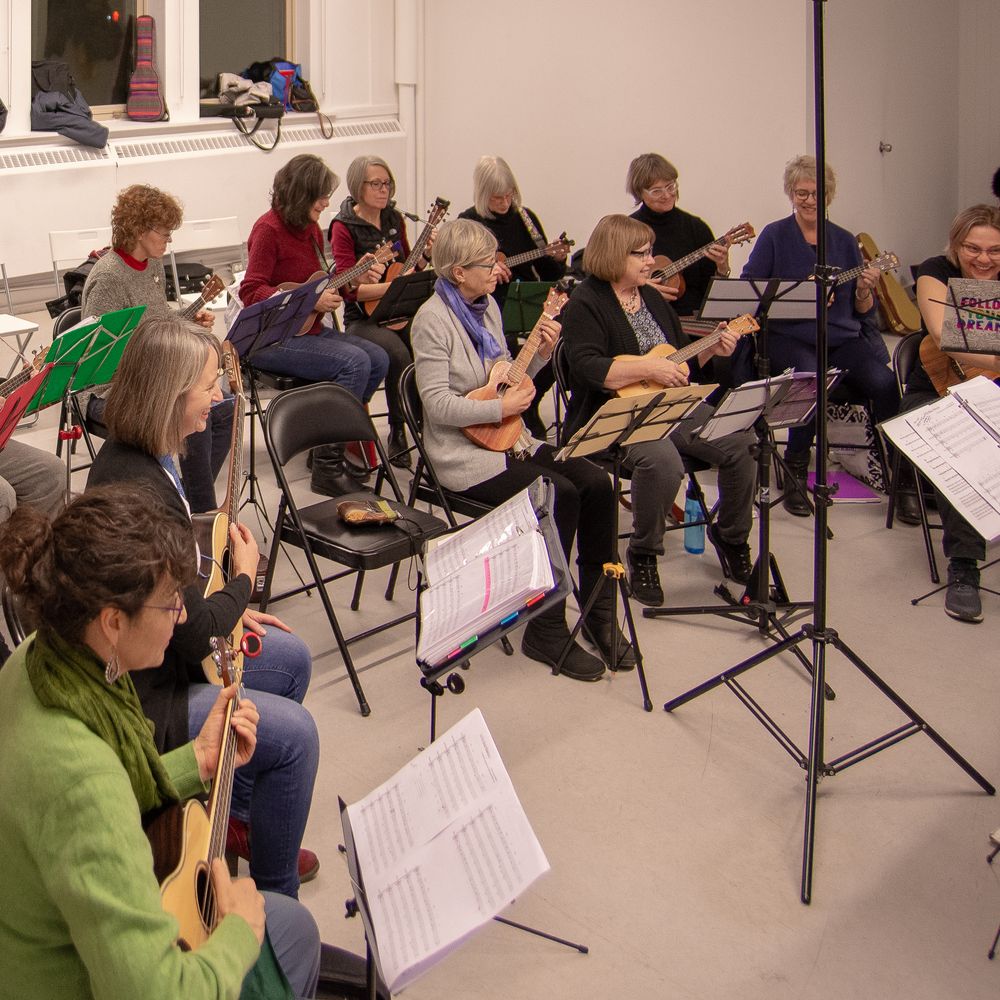 Ukes of T welcomes new members every session
Sep 23 - Jan 24 Session
In Person on Alternating Tuesdays
- with some added online sessions -
Sep 19 - Jan 23
7:30 - 9 pm ET
IN PERSON REHEARSALS:
Sep 26 - Jan 23
(no in-person rehearsal Dec 19, Jan 2, Jan 16)
Neighbourhood Unitarian Universalist Cong.
310 Danforth Ave, Toronto
(rehearsal videos posted after each rehearsal for virtual participants)
ONLINE REHEARSALS:
On Zoom
Orientation: Sep 19
Sectional Rehearsals: Oct 17, Nov 14, Jan 9
Concert: Sat Jan 27
Virtual Performances TBA
Fee: $275
Members are placed in a section based on previous playing and music reading experience.
Contact us for more information.
frequently Asked questions
Can I Join If I'm An Absolute Beginner?
You should know some basic chords and be able to play a few songs before joining Ukes of T. The focus in Ukes of T is on learning the music arrangements rather than on basics of how to play the ukulele. If you want to learn how to play the ukulele, you might be interested in the other classes that Eve leads. 
Do I Have To Know How to Read Music?
You do not have to know how to read music in order to join, although it's helpful! The music arrangements for Ukes of T always have easier parts that are meant for people who aren't used to reading music notation. When you fill in the registration form, you will be asked some questions about your previous musical experience. Based on your answers to those questions, you will be placed in a section of the orchestra. Usually people who don't have previous music reading experience are placed in the Uke III section, which has the easiest parts to read. 
What Supports Are There For Learning The Music?
For each piece, Eve creates rehearsal tracks for you to practice with. These are made available to members through the members only page on the website. In addition, the rehearsal schedule includes sectional rehearsals where each section meets on its own to go over its parts. This helps ensure that everyone gets the individual help they need to learn their part.
How Do I Participate Virtually?
After each in-person rehearsal, a video of the rehearsal will be posted for all members. 
What Equipment Or Skills Do I Need To Be Part of a Virtual Performance?
To create a virtual performance, each member records their part separately and we put them together into a collective video or audio track. Sometimes you will be asked to record audio only, but sometimes each member is asked to record a video of their performance. You can record your part simply using the voice memo app or video app on your smartphone, tablet or computer. We will provide "how-to" information and technical support to help you learn how to make a basic recording.
I Have Another Question
Please contact us if you have any other questions.